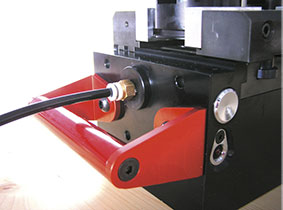 Versatility
The clamping fixture can be secured to a machine table or indexing head (with a specific adaptor).
Several fastening options are available for all machine tables (spacing between keyways).

Pneumatic operation (using the workshop's air lines, or via a small compressor with a single 6-mm supply hose).
A selector valve fitted upstream of the fixture can be used to clamp or release all the jaws at the same time (when machining long parts).